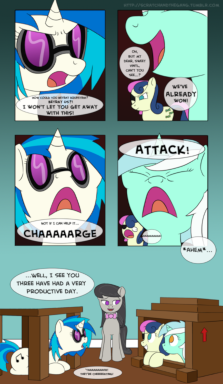 Source
This story is a sequel to An Island, Two Mares and a Bottle of Rum
---
Vinyl likes rum. She also likes pirates. Moreover, she likes adventure. But what she likes most is sex with her marefriend, Octavia. So, when she has a chance to have an adventure on a pirate sailing boat, with a supply of rum and in the company of her marefriend and their neighbours Lyra and Bon-Bon, she feels that it will be an experience of a lifetime.
And she is so right.
The long-awaited sequel to An Island, Two Mares and a Bottle of Rum!
"This is a piece of s*** an' chips with a side order of rum, just take out the s***." - Fillyfooler
"This story contains my fully needed amount of non-seaponies, rum, parrots as casual wear and philosophical musing about what life would be like if we used 13 hour clocks." - Maskedferret
"Pretty fly, Imma tell all my ziggas about it. ...I thought about this quote for like, a whole ten minutes. That's like, more than nine." - GoldShockAttack
"I had to choose between having sex and reading this story. My choice was obvious. ...What? I had sex, of course." - Slightly Serious ("You can't prove I didn't say that!")
"Vinyl's and Octavia's complex relationship illustr- Who the **** am I kidding? It's still just booze and sex. Kinky horse sex. " - jlm123hi
"This fanfic made me grow chest hair, then shave it off in an effort to look more lesbian. It didn't succeed. The story was still pretty good, though." - Bandy (who didn't actually read it)
"It was as good as last night" - Willsons
"It's better than Canada" - Acreu the Ball (very slightly paraphrased)
"It feels good to have written a masterpiece." - psp7master
/Rated T because, while there is not any graphic description of mature activity, it is mentioned in a joking context. But also rated 18+ for Russian audiences for a positive expression of homosexuality. Stupid-law-influenced doublethink? Stupid-law-influenced doublethink.
Using this cover art because it's the closest pirate-related pic about Viny, Octavia, Lyra and Bon-Bon that I could think of.
Chapters (11)