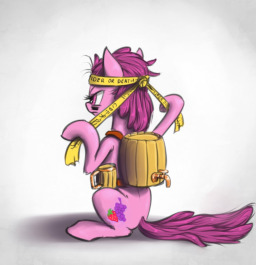 Not all the heros in Equestria are noble like the Elements of Harmony, or graceful like the Alicorn Princesses of the Sun and Moon. Some are brutal and uncouth but they are there when needed.
Ponyville has one such hero. The Drunken Mistress, Berry Punch. She gains crazy strength and endurance when drunk, along with a few other abilities. And when the Elements aren't around to save the day she is more than happy to get wasted to save the day.
This is the story of how Berry Punch saved Ponyville when the Elements left to find Chrysalis during the passing of Secretariat Comet.
[img]http://i1277.photobucket.com/albums/y481/kaymart56/iJrv8pT_zpsd2e68a26.png[/img]
-----
Thanks to Mr101, Berry Punch, TheExhaustedBrony, and Timps for Pre-Reading
One-Shotober Story #5 10/5/2013
Chapters (1)