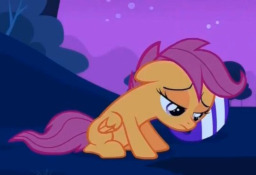 Scootaloo has never been the best of fliers, especially when compared to her parents. But then again, neither was her brother, Flash. For most of her life, they've both been unable to meet the expectations their parents- and everypony else- have set for them, but they've always been able to take comfort in knowing they would face their problems together.
Now, however, things have changed. Flash is not only a member of Canterlot's Elite Guard, but he is also engaged to a Princess. He has become everything Scootaloo has only dreamed of, and yet she still can't even fly.
Will their relationship be able to survive? Or will Scootaloo abandon him forever?
Chapters (1)