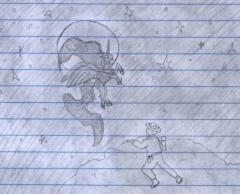 Source
An Earth man wakes up early to watch the sunrise on the longest day of the year. Meanwhile in Equestria, Nightmare Moon makes sure the sun shall never rise again, and adds a little something for a nice touch. This is based upon eye-witness accounts of what two of my best friends remember of their time in Equestria.
Please note: The first few chapters aren't very good, and neither George nor Sam likes them.
Cover art by AegisExemplar, but it can always be better. If you can make a better looking one of it, please do.
Chapters (17)