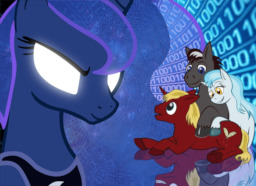 Source
An introspective fellow leaves his mortal body behind and emigrates to Equestria Online. He's used to being among the sharper knives in the drawer. But now, he has encountered an entity who not only is the drawer, but the whole house besides.
Can all his wit and snarkiness avail him against the wiles of LunAI? Don't bet on it.
An Optimalverse story.
NOTE: While this story starts off pleasantly enough, the Dark tag is there for a reason. The reader is warned.
The cover art uses a modified vector by Joltage for Luna. The rest of the foreground was doodled by GroaningGreyAgony, to whose able assistance I shall be eternally grateful. I suggest that you click on the image to see its full detail.
Chapters (6)