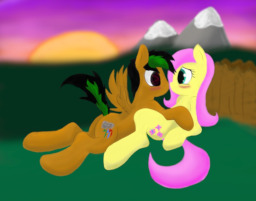 When Rainbow Dash asks Fluttershy to attend the Hearts and Hooves Day Galloping Gala special opening night, Fluttershy reluctantly agrees to go. Meanwhile, the new pegasus-stallion Matrixwing -who had never before been to Ponyville- tries to find a place to live there. The two pegasi's fates intertwine as they try to find out more about each other, and eventually fall in love... Unfortunately, an evil force rises from the ashes of their former enemies... An evil so great, that it starts to change unoticing ponies one by one... Eventually, Matrixwing begins to trust the ponies of Ponyville, and tells Fluttershy of his 'seeing' blindness -'Clairvoyance' he calls it-, the 'mood lightning' (also known as the Visus Colorem Condition) in his eyes, and his gift of lightning speed. Is he capable of protecting the only mare he could ever love from one of the deadliest forces of evil? Can he find the ancient and sacred Element of Harmony required to defeat them? Well go on, read and find out!
Remember to like and comment. With enough likes (20+), I may add a bonus chapter, or start a new story (maybe even a series!).
Warning: This has a fully customized OC in here, as well as plot twists, so keep that in mind as you read and don't make assumptions based on what you read so far. If you do, be reasonable. This story was also written for the enjoyment of others, so I'm not looking for heavy and unjustifiable criticism.
Chapters (14)