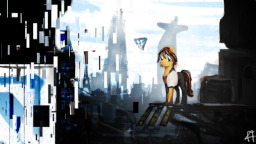 Once upon a time, in a land far far away—oh, who gives a crap.
All you need to know is this: There's this big school in an equally big city called Academy City. (Original, I know) And in that school students are graded based on a level system. Twelve is good—Like, "Celestia on a good day" good—one is bad.
I'm level one.
Woop-ti-doo.
But that's not the worst of it, nope. I have to deal with a math-crazed freak, a nihilist that's far too happy for her own good, a time manipulator who can't manipulate her way out of a cardboard box, and, to put the cherry on the cow patty, high school life.
Well, shit.
Warning: Some mildly impolite things are said on occasion.
Cover-Art by: F4celessart
Chapter Header Art by: Gurumane
Chapters (13)