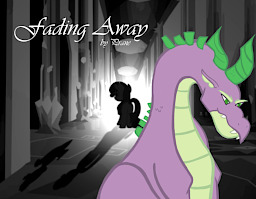 Source
"What would you do if you were to find a long-gone dragon?"
This question has been haunting Twilight for a few good months now. Months of renewed sadness, yet also months of restored hope. Months, after which most of us would have collapsed. But, she's Twilight Sparkle, after all. When it comes to her friends, she is bound to find answers to any of her questions...
Several years into the future, she and Spike have gone their separate ways. But now, it is up to the princess to find her former Number One Assistant and convey a message that will, hopefully, soothe each other's regret and might bring them together again: their mutual friend, Rarity of Ponyville... is fading away.
This story is a vital part of my Summer Genre Tour.
Already done reading it? Check out this blog post for more stuff regarding Fading Away!
Chapters (4)