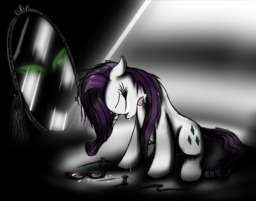 Source
Months of torment without end. Months of going to school, fearing each torturous moment. Rarity, broken and afraid, finds solace in a small clearing in a forest near her school. Her bullies do not come for her there.
Until one day they do.
They make their intentions of beating her up quite plain, and when the leader went to attack her... What she did; she didn't mean for it to happen that way, but it happened.
In the main timeline, she killed all three of her tormentors and went on to become a deadly serial killer. Here, one of them escapes, and Rarity is caught right away...
An alternate universe of The Secret Life of Rarity
Want a print copy? You can get one here!
Chapters (20)