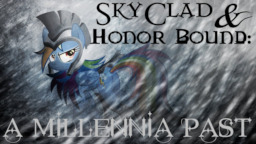 Rainbow Dash, the powerful mare bearing the Element of Harmony, through an unfortunate and unknown turn of events, finds herself in an entirely different world. But it's not a different world, only . . . a different time.
She finds herself over a thousand years in the past, thrust into a prophecy unknown to her and into a war with the demons of Tartarus, the weight of a world laying weak and quivering in her hooves all the while.
So this is kind of my Magnum Opus right here, I've spent the most time planning it, had the most editors and pre-readers go over it, and I'm pretty sure that I did a good job. So . . . did I?
Chapters (5)