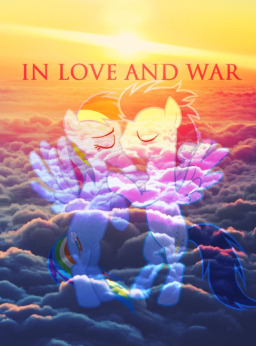 After a long stretch of time, Soarin is finally able to get to talk to Rainbow Dash (with the persuasion of some friends). They spend time together, and he finally realizes that he might have a chance to be with the pony of his dreams. But when the threat of war begins to hang over Equestria, will they be able to maintain their new feelings, or be swept away in the fighting?
So this is my first fanfic. Ever. I appreciate all constructive criticsm, sugggestions, questions, etc. This story will take time to develop into the war story, so just be patient. Also, if you give a thumbs down, please say why. I am not a writing expert, so I am always looking for ways to improve!
Some language, violence later on. Don't worry, I got this whole thing planned out :)
EDIT: Credits to my Creative Consultant and Co-Author Wingstream, both for his character and for the fantastic cover art.
Chapters (19)