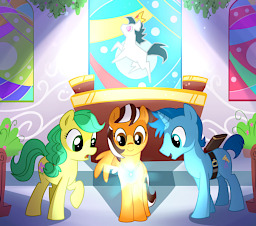 Adventure
Alternate Universe
Romance
---
UPDATE: This story will no longer be continued. I cannot find the motivation to take it the direction that I wanted to take it, and I feel the writing is of poor quality in the most recent chapters.
There are many myths and legends that surround the land of Canterlonia, but the most fascinating and recited is that of 'The Wanderer'. When Sepia Stripes, a pony dedicated to studying the past, begins to witness ghostly figures in her dreams after wearing an antique necklace, she embarks on a journey with her best friend and her rival to discover what happened to the land over five hundred years ago.
But she soon learns that some myths are more true than they sound... And sometimes, history is doomed to repeat itself.
Featured on EQD! http://www.equestriadaily.com/2012/08/story-wanderers-wife.html
Cover image by CSImadmax!
An all OC adventure that takes place in somewhere that isn't Equestria. With thanks to Diexna and LysanderasD for giving me the motivation to continue this story after many months of hiatus, and for helping me with it. I'd also like to thank bronzyZ and Alicorn Priest for proof reading. Please rate and comment. I always like to know what I've done well and what could be done better.