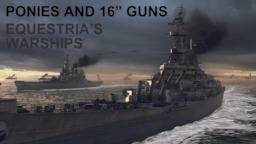 In the aftermath of WWII, a trans-dimensional portal opens up at Midway releasing a fleet of other-worldly ships upon the island and the surrounding fleets. The United States Navy was able to repel the attackers back through the portal before any collateral damage could be inflicted. In the wake of the attack, the U.S government decides to send an expeditionary force beyond the portal to find those responsible and bring them to justice. But what they would find is a world of myth and legend.
Prior to their arrival, an ancient evil returns to the world of Verdon hell-bent on uniting the world under a new Reich order. Outgunned, facing impossible odds, and the Enterprise crippled in the recent attack on San Maresisco. Princess Celestia is forced to help Admiral Chester Nimitz return to Earth in hopes of bringing the other battlefleet's to the Equestrian world. But in a world now divided between the Allies and the Soviets, An event like America's secret first contact with an inter-dimensional race could trigger dire consequences on the world, and give Stalin the perfect opportunity to swiftly conquer Europe.
WWII may be over, but the "First Contact War" has just begun...
A.N: RECOMMEND READING "LANDFALL" FIRST IF YOU ARE NEW TO THE STORY!!!
(Equestria's Warships is currently on hold till Landfall rewrite is complete, changes are expected follow the new storyline. The description above will be re-written.)
Chapters (6)