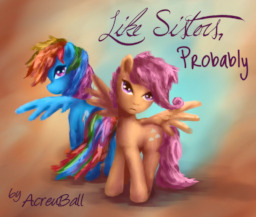 Source
Since the part where Dash was all, "alright, Scootaloo, I could be like your sister or something"—back when I was a filly, about ten years ago, now—things between us'd gotten pretty awesome. She taught me how to fly, I was there to cheer her on when she got into the Wonderbolts, we hung out all the time—stuff like that. I think we did a pretty good job of being sisters, for the most part, and I'd bet Dash'd tell you the same.
But, you know, if I'm being honest, I'd admit I'd probably always felt something not quite sisterly towards Dash. And by that, of course, I mean I had a total and absolute ridiculous crush on her. But it was never really an issue—like, it just made it that much more awesome to be around her and stuff.
Well, that was until Dash started with that flying test to get into the super elite division of the Wonderbolts. That's really when all that came out into the open—and looking back on it, it was quite the cluster-buck, the way Sweetie Belle and Lightning Dust got all tangled up in that junk. I mean, not that I give two bucks about Lighting Dust, but Dash does. And then I do feel pretty bad about the stuff I put Sweetie through with all that. I mean, I wouldn't say I regret anything exactly, but there's no two ways about it—it was what it was.
Actually, you want to just hear the whole story? I suppose I could tell you if you want.
Chapters (13)