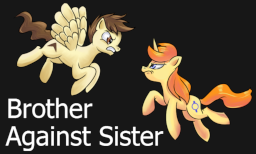 Source
Now completed! (Comments may contain unmarked spoilers.)
A decade after Princess Celestia dies and names Twilight Sparkle her successor, Equestria splits along racial and partisan lines. Equestria's cities have declared independence and are at war.
The conflict engulfs Ponyville. Teenage Pound and Pumpkin Cake team up, using their talents of flight and magic to protect their loved ones. But the twins later join polar opposite factions of the war, and now their rivalry risks plunging all of Equestria into ruin...
The story complies with season 1-3 canon, but differs from the comics and season 4 onward.
Chapters (51)