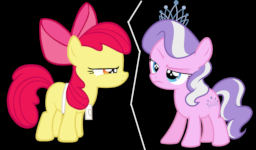 Diamond Tiara and Apple Bloom hate each other. Their hate is strong, and pure. But their families are such good friends, and have plans for the two fillies to be together through marriage. They will have none of this hate between the two fillies.
In order to protect their hatred towards each other, the two run away to their new life of forever being mortal enemies, in the hopes that one day they can be apart from each other in peace.
Entry into the 2013 NaPoWriMo event.
Word count: 51,140/50,000 (going by Microsoft Word's word count, as fimfic seems to like adding words to chapters when they are uploaded, and also counting words in chapters not yet completed). Goal reached: 21/09/2013 @ 22:46 GMT.
Chapters (14)