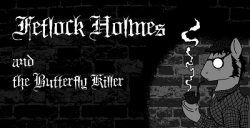 A series of brutal murders seize the attention of the worlds greatest consulting detective.
Soon after meeting his eventual partner Jog Watson, Holmes must contend with the Butterfly Killer, a serial murderer who only kills when it rains and always leaves a dead butterfly with the victim.
The only suspects: a classroom of young ponies.
Chapters (6)