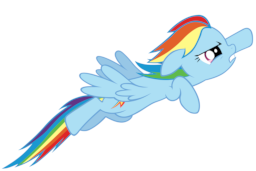 Rainbow Dash has always relied on her friends for moral support. But when the biggest competition of her life comes, who's there to support her?
Entry for SpikeDash competition, but really, I'm just doing this out of the love I have for this pairing. I raise my glass to all the supporters and lovers of the pairing, as well as Vexy, who's words of inspiration were "DO IT FILLY!"
Sorry for the minuscule size of this chapter, I wanted to finish as fast as I could. FORWARD TO THE CHARGE! Also, this is only going to be about four chapters, so yeah...
Chapters (1)