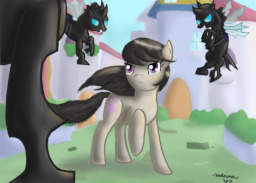 Octavia wanted to forget war. She wanted to live a normal life not filled with bloodshed, and focus on her music career. Unfortunately, war is rarely considerate, so when the changelings invade, Octavia has no choice but to act in order to save her country from possibly a threat worse than even the War of 1972.
But in a city taken over by creatures that can take any shape, who can you trust?
This story is NOT a retelling of Metal Gear Solid, but it uses some of the tropes from that game.
Chapters (7)