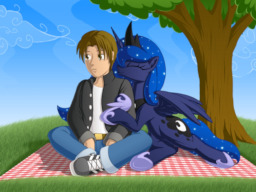 Source
Dixon Alexandra Shephard, your everyday 16 year old going through high school and adolescence stuff. He never would have thought that one day, he will find a very confused and lost princess from a television show. Much less having his normal life turned upside down.
Join him as he endure a day of high school with the most irritating classmates, and school bullies. While at the same time, trying to keep Princess Luna safe.
(Rated Teen for language and some 'situation')
Coverart by BerryPAWNCH
Luna's Fanfiction Library Approved!
Do not confuse 'Luna's Fanfiction Library' with 'Luna's Library'. 'Luna's Library' is a different group focused on Crossover stories while 'Luna's Fanfiction Library' are focused on all kind of stories.
Edit: 20/10/2013, 50 likes! Milestone #1! Thank you all!
Edit: 31/7/2014, 100 likes! Milestone #2! Thanks guys! You're awesome!
Edit: 21/12/2013, The following chapters, Monday Blues, The Three Stooges and Snow Day, will be taken down for reworking and rewriting. I will update this post when each chapter is re published.
Edit: 26/12/2013: Chapter 1 have been re-released.
Chapters (10)