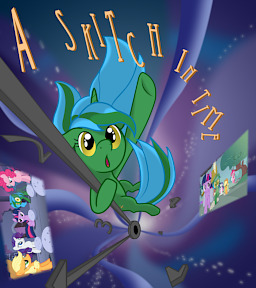 Nothing is right.
Jake has no idea why he woke up as a pony mare in Equestria. He has no idea why he can't remember what he was doing before it happened, and he has no proof that his human life is even real to begin with. Just his memories. Memories he can't even trust any more, because even the Equestria that he's found himself in doesn't match what he remembers and everypony he meets think he's a unicorn by the name of Skitch-Sketch, who's been right at the side of the Element Bearers.
And then there's that creeping sense of dread. Feelings that he's run from for a long time. And the sensation that some other, deeper doom is bearing down on the planet Equis.
But surely the Mane Six can fix everything....right?
Cover Art by the awesome GatesMcCloud!
And fan art by the loveable and huggable Angermuffin!
Starting story of the Skitchverse
Chapters (11)