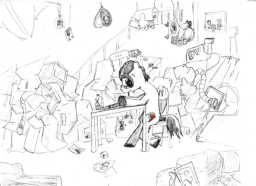 Gizmo Gadget is, for all means and purposes, a failed inventor. Most every invention he has created has led to some sort of catastrophe in his hometown of Fillydelphia, from fires to explosions to infestations.
One day, he hopes to create something that works.
He should've been careful what he wished for.
---
A bit darker than FiM in general. Some sad parts, and some (hopefully) funny parts. Enjoy!
Chapters (1)