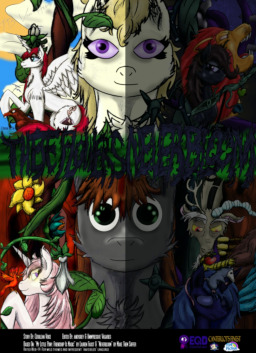 Source
This story is a prequel to Keeper of the Crystal Heart
---
Will you remember me as the one from the trees, when the forest used to sing?
Bound to the Earth, a guardian spirit maintains a constant watch over the Everfree forest. He has been so alone, for so very long. But this was not always so. He was once proud, with his partner—Rose, the weaver of dreams—at his side, until the grand deception that not only tainted him and his precious forest, but also shaped the very land of Equestria as we know it. Now for the first time, you may see and understand the mythos behind the creation of the Everfree forest, told through Ilias the Firstborn's memories: his Chronicles of Woe.
---
A story based upon and heavily inspired by the album Neverbloom, created by Australian melodic deathcore band, Make Them Suffer. All lyrical copyrights to S. Harmanis and Make Them Suffer. Permission to use song lyrics obtained from S. Harmanis of Make Them Suffer.
Edited by andygrey, Unimpressive Vagaries, and Cormac McCloppy.
Rated teen for mild themes and infrequent spoiler-tagged language.
Featured on:
Equestria Daily!
Canterlot's Finest.
Make Them Suffer's official FaceBook page! The highest honour I could have hoped for.
Chapters (12)