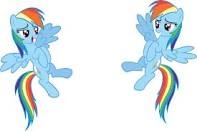 There were two things everypony knew about Autumn Flare before she even came to live in Ponyville. The first being that her parents were dead, and the second being that Autumn had killed them.
When she comes to Ponyville, Autumn Flare takes a special interest to a certain pony named Rainbow Dash. Before any pony knows it, Autumn is speaking like Rainbow, acting like Rainbow, even dyed her hair to look the same as hers.
But then Rainbow is mysteriously injured. She spends weeks in the hospital. Twilight can't get a word out of Rainbow or Autumn, but Twilight isn't do sure about the 'car crash' theory. What if it's true? What if Autumn flare really is a killer...?
Chapters (1)