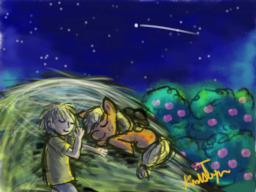 Source
Ryan was a guy who, while not having a great life, had one that was passable and wasn't anything to gripe about; however he felt lost in what it had all become...but that changes soon enough when he finds himself in a place that's like his world but not, and comes to find friendship with those residing there; in particular one southern gal starts to catch his eye and so a tale of silliness, laughs, love, and even action begins as he adjusts and finds a way to make a new start in Equestria...and on Sweet Apple Acres.
(My first ever MLP:FiM fanfic since this series is just so awesome and AppleJack is also mah fave pony. I go a little crazy with how I set stuff up but I hope ya find it an entertaining read.)
5/11/14: Over 20,000 views?! You guys are crazy, but that's awesome so Thanks!
3/31/15: Over 30,000 views now...good heavens. That's a lot of reads. Hahahaha. Thanks guys!


11/4/15: And now over 40,000 views. And certainly more fans thanks to that. Haha. Awesome!
Chapters (25)