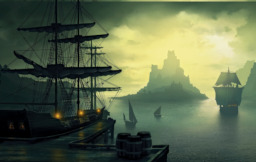 Land Locked was never one for the small port village he was raised in. He had always dreamed of a life at sea, exploring the world and claiming treasure as his own. However, the open water is no place for an Earth Pony.
But when a voice in a strange dream starts guiding him and an even stranger ship shows up in port, maybe he's finally been given the chance he's always wanted.
But when Griffins and Changelings are thrown into the mix, along with the Royal fleet, was this really the adventure he was looking for? Or a tragedy waiting to happen?
Chapters (1)