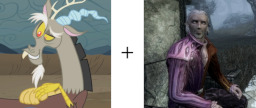 Contains lots of Elder Scrolls stuff. If you don't have at least heavy knowledge of the game series, you'll only get confused. But that might happen either way, won't it?
---
Why just chaos when you can add madness to the mix?
Maybe you're worried about the two's many tricks?
One's insane, the other's a loon!
Which one is which? We won't find out soon.
How will the world handle this mess, this calamity?
Not even the Elements can contain this amity!
Luckily for you, but rather unfortunate for all,
This meeting soon turns into a brawl.
Chaos and madness, an explosive mix,
Sheogorath and Discord, the gods of tricks.
Chapters (2)