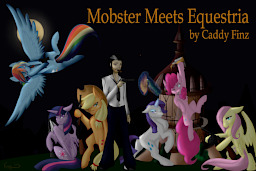 I've done a lot of things I ain't too proud of. I've worked for an organized crime family as a hit man for more time than I'd like to admit. I got paid to take people's lives, I've robbed, stolen, smuggled and hijacked. If it's something one would call sneaky, crooked, vile or anything like that, I've done it.
My name is Vincenzo Scungilli and this is the story of my new beginning. Tired of a life full of nothing but murder and blood, I decided That I wanted to get out of the mob. With a "blessing" from my don, I found that it would prove wise to escape my past and the people who still want me dead not by leaving New York City or even the country, but by my newly discovered mode of transport, inter dimensional travel. By complete freak accident, I ended up getting sucked into Equestria, a land of friendship, magic and candy colored talking ponies who proceed to annoy the hell out of me...and I gotta wait a week to get back.
Think I can keep my sanity and maybe even learn a few things about friendship? Will I even go so far as to make friends with these fruity little wimps and risk life and limb to help them when they accepted me and took me in as their friend? Will I find out who I can really trust and learn who I can't? Well then ya'd better start readin' if ya know what's good for ya! Capiche?
Rated Teen for violence, language and explosions involving "F-bombs"
Cover Art Courtesy of thelunarqueen.deviantart.com
Chapters (18)