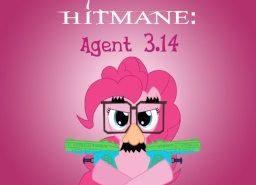 Source
Hitmane is the most famous prankster of Ponville, a legend. Somepony capable of pulling off the most contrived and impressive pranks in the blink of an eye and always two steps ahead of the police thanks to her bizarre disguises, deemed too weird and crazy to be considered true.
Her pranks always succeeded in making fun of her victims, but her services weren't cheap. Agent 3.14 always asked for the same two things: A lot of bits, and some candies.
Takes place during Rainbow in the Dark.
Edited and revised by Kalash93
Now in Tv Tropes!
Chapters (1)