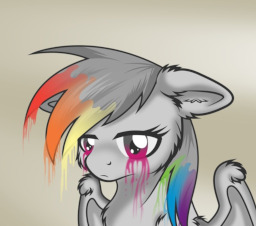 I wish I could see you smile again.
Ever since it went away, the pony I once knew seemed to disappear as well.
At times, it makes me wonder if anything matters anymore.
It makes me wonder if I still matter to you anymore...
Twilight and Rainbow Dash come to a crossroads in their relationship as they look to the future. But with as bleak and depressing as it seems, what really is the point? Perhaps love does conquer all...
---
-Approved for Twilight's Library and Celestia's Library
-Featured on the Royal Guard 2/4/14
-Featured on Equestria Daily 3/10/14
-Audio reading found here
Chapters (1)