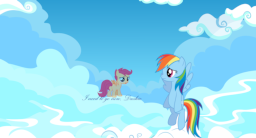 Source
Accidents are inevitable. They can happen to everyone. Some of them may be harmless, but others can be devastating. And when Rainbow Dash is torn apart by a disaster she feels responsible for, she struggles to find a way to deal with the consequences.
---
Inspired by this heartbreaking comic made by the deviantart user ~Capt-Nemo
New cover art made by CaffeineAndApples
(Click 'more' for credits.)
---
Special thanks to:
Volgrand, Nonagon, I HV NO FEAR, Ltn Vasquez (Proofreaders)
All of the Above, Cheshire, Avishadow, and last but not least, Schizoid Nightfall (Pre-readers)
These users have made it possible what this story is today and deserve as much credit as me! Thanks again everyone!
Chapters (3)