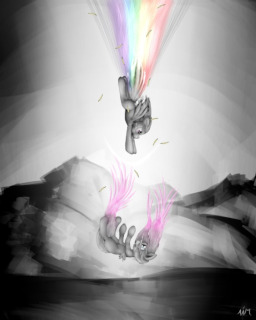 Source
Something happens and Fluttershy's wings are gone. She can't do anything about it as she falls from a great height. Rainbow Dash tries to catch her falling friend... I will let you read it instead of telling the whole thing.
I was on /r/mylittleonions and I saw this pic. I couldn't help but try my hand again at sad stories.
The artist's name is ZirBronium and has a deviantArt. Go ahead and go look at his stuff by clicking his name.
Chapters (1)