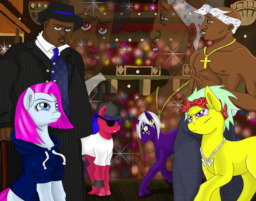 Source
Tupac and Biggie were two men that would have hardly needed an introduction in the early 90's. Most famously known for being the frontrunners of a growing feud between the west and east coast hip hop scenes, their rivalry would forever be cemented in history.
Unfortunately these two kings of hip hop became casualties of their own war, but both will be given a second chance. Only one catch comes with the deal and it's named Equestria. Is this relatively peaceful land ready for these two thugs and what they will bring to the music scene? They say some rivalries are better left dead; however there are some that simply must live on.
________________________________________________
This is a collaboration fic with Sonson-Sensei, give his stories a read!
Warning: Fic contains cursing, hardcore rappers, ponies becoming hardcore themselves, and real rap. (Not that trash you hear on the radio. That ain't rap, that's...Ew.)
Chapters (3)