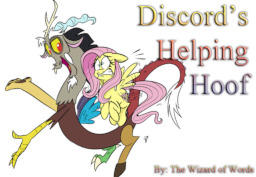 Source
It has been months since Discord was reformed and relocated to Ponyville. Under Fluttershy's watchful eye, he has kept himself from harming or manipulating a single pony. There is only a small problem that came with the larger solution.
He has gotten bored.
Concerned for her new friend, Fluttershy suggests he uses his magical powers to help ponies around Ponyville in ways that no other pony can. Good thing, Discord has such a unique way to help ponies in need...
Story eleven in my Twidash Challenge: Random Theme
Cover image by GlancoJusticar
Chapters (8)