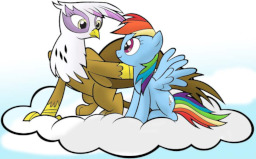 Gilda left Rainbow Dash in a cloud of dust as she pushed off to fly away that year and a half ago. What things she left are things she never got to say and feelings she never got to express. A year and a half later, Fluttershy discovers Gilda in her nest/perch on one of the Everfree Forest trees. Fluttershy tells Rainbow and Pinkie. The trio set off on a journey to find Gilda, and that leads them to Gilda's most recent hiding place; Fillydelphia.
Sometime later, the group attempts to get Gilda to stay. This leads into many things, such as Rainbow tackling Gilda, and Gilda scratching Rainbow's foreleg. Gilda escapes temporarily, and Pinkie is assigned to return with Gilda. The tired griffon is unsuccessful at eluding the party pony and, reluctantly, Gilda follows Pinkie back to the place where she left Fluttershy and injured Rainbow Dash.
NOTE: If the original author sees this and wants me to take it down, I will understand.
I'm sorry I don't know the original artist for my cover image. If the artist sees this and wants it down or replaced, again, I will do it.
First story. Feel free to criticize to your heart's content.
Chapters (1)