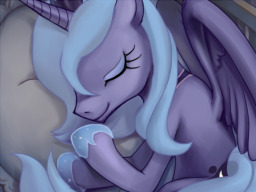 Luna has been plagued by nightmares since she was very young, her parents and sister are concerned when no known spell shows any sign of helping the poor filly. Suddenly however, her nightmares seem to vanish and she seems a lot more cheerful. She tells them that her new friend is keeping the nightmares at bay and teaching her new things, but they simply believe that it's a simple imaginary friend.
But he is very much real in her dreams.
Whenever Luna falls asleep, she wakes up in her dream world where her friend, Crescent, teaches her the ancient ability of protecting the dreams of children as well as a race that has nearly been forgotten.
For his time in this world is coming to an end and Luna, his 'Little Moon', is to become the new guardian of dreams.
---
A story from Luna's childhood into adulthood, inspired by the cover art.
---
Thank you to Berry Punch, Bocaj518, Rainbowbob and DVAN56 for their help.
Cover art found here by dawkinsia.
Chapters (1)