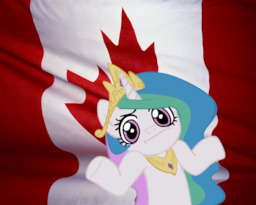 Ah, the tropics. Sand, sun, and all the fruity cocktails your liver can handle. Just spend the day lying on the beach, soaking up the sun and listening to the waves gently lap against the shore...
Too bad you don't get any of that in the frozen north. A hideous mix-up has sent the mane six to the far northern land of Caneighda. But this land of ice and snow is quick to reveal a deeper, hidden warmth. You just have to look at it the right way.
Disclaimer: I am Canadian, so I'm exempt from any flak you might decide to throw at me because of the stereotypes I use.
Chapters (1)