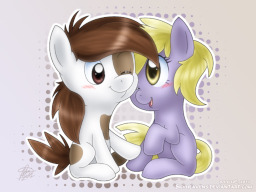 Source
Dinky and Pipsqueak.
A perfect match from the beginning. They were meant for eachother, and they will find that out one way or another.
Let us stroll down the years it took them to realize this...
Spin-off of the Pounding Pumpkin series, so obviously you shouldn't be taking this story too seriously.
Art by SkyHeavens, who shall never know this exists.
Chapters (1)