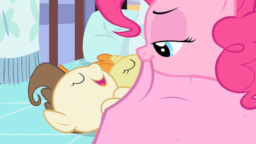 Source
This story is a sequel to Apple Bloom and the Timberwolf
---
One of the flaws of the Fourth Wall Theater Troupe is that one of its founding members, Discord, doesn't keep a schedule (he's the Master of Chaos; why would he?). As such, it's very possible for him to drop in for a brainstorming session at the most inappropriate of times. Like when Pinkie Pie is supposed to be foal-sitting Pound and Pumpkin, for instance.
But perhaps it is possible to eat two cakes with one spork. After all, inspiration can strike when you least expect it, and it's almost time for the twins to go to bed, anyway. Yeah, I think you can see where this is going.
If you're not familiar with the Fourth Wall Theater Troupe, it is recommended that you check out their debut performance, which can be found in the prequel tag above.
Chapters (5)