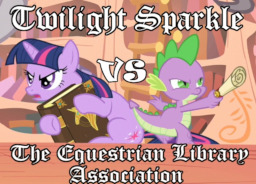 Twilight Sparkle loves being a librarian. She gets to spend all day surrounded by her favorite things in the world—books—and best of all, nopony ruins it by trying to talk to her (or at least if they do, they have to be quiet about it).
But when the new head of the Equestrian Library Association gives her an ultimatum, Twilight's future as Ponyville's librarian will hinge on her ability to face the most horrifying creatures she's ever had to deal with:
No, not her new boss (who's clearly up to no good). Not the cult of the Dark God Cacophonon. Not even the strange book that won't. Stop. Staring. Worse than all that.
Library Patrons.
Chapters (2)