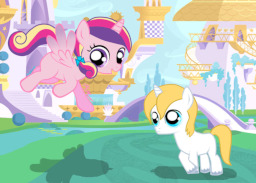 Source
In a time long past, Cadance lets loose her inner amateur daredevil.
Blueblood reluctantly helps her, because that is what brothers do for their adopted sisters, right?
Course it is! No matter how harrowing, scary, or gulp, messy things get, the prince will always be there for his favorite princess ever!
And she'll return the favor, right?
Sure.
Chapters (3)