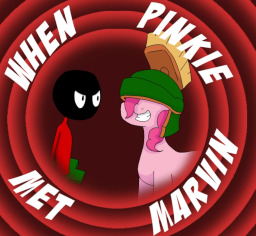 When Twilight and the others find Pinkie setting up (another) random party, they wonder what the occasion is, especially since the banner says.
'To my super awesome space friend!'
Pinkie then sits them down and tells them with one of her stories, stories that her friends have come to know and love as crazy, wacky and just impossible.
This is the story of how she saved their planet from destruction (without realizing it), from a being who wanted it gone simply for blocking his view of another planet.
This… is when Pinkie met Marvin.
---
A silly (not to be taken seriously.) Looney Tunes crossover with Marvin the Martian influenced by one of his cartoons, cover art done by me (Background found on Google images).
Chapters (1)