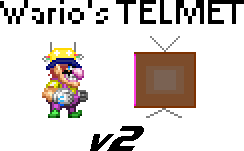 [img]https://dl.dropboxusercontent.com/u/38185920/Wario's%20TELMET%20v2%20logo.png[/img]
On MAJOR Hiatus until further notice. I'm not giving up the story guys, just kinda busy that's all!
Update: This story will return soon, but atm I am focusing on a huge story I've been working on the past year. Might get updates, but might not too.
NOTICE: Contains very minor language (Crud, crap, etc...) and mild violence
WAHAHAHAHAHA! I'ma wario, #1 at everything that you're-a terrible and excellent at! I decided to make a new TELMET because if you played the AWESOME game called Wario: Master of Disguise, at the end of the game (spoiler alert wimps!) I got all the treasure from that Zephyr dude! But then I realized I had a flaw with my device! IT COULDN'T TRANSPORT MY TREASURE!
So I'ma going to make a new one to get it back! Let's just-a hope nothing goes wrong!
[img]https://dl.dropboxusercontent.com/u/38185920/Wario's%20TELMET%20v2%20Teriminal.png[/img]
General Info
This story is told from Wario's perspective and the occasional narrative perspective, the narrator always talks like this. This is also a continuation of the ending of Wario: Master of Disguise (Nintendo DS) in a extent to where I ask "What happened afterward?" and made this story as a response.
Chapters (4)