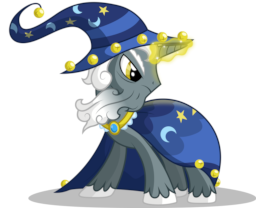 Star Swirl the Bearded, known for his great cunning, ability and knowledge of magic is remembered even more for the ultimate sacrifice he made for people. But even though his tale ended with the words "Run You Fools!" His life did not.
This is the final hour of his life and the battle he waged against that which he feared most. And also an awesome surprise ending!!!
Skip the first chapter if you've seen remakes of this scene to death already...
Yes... the story was inspired somewhat by Gandalf the Grey's fight against the Balrog but it isn't exactly the same, after all it is called 'Star Swirl's Final Hour' is it not? Expect a tale of comedy, sacrifice and the facing of one's greatest fears. Feel free to comment, in fact I welcome it!
This story is dedicated to the A For Effort group. I expect a fair review! Eventually!
Thank you to Emkay-MLP for allowing me to use the image, check out her artwork! Seriously it's gorgeous! (Follow link to image source and give her your love!)
Tags: Comedy because there is, Tragedy because I couldn't have sad... and Adventure because etc, etc...
Chapters (6)