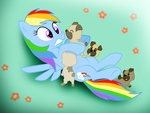 Source
After picking up Tank from Fluttershy's cottage, Rainbow Dash rescues four pug puppies. She can't keep them nor abandon them, but names them the Wonder Pugs after her heroes: Spitfire, Soarin', Rapidfire, and Fleetfoot. She and Tank go into Ponyville to see which of the other Mane Six might be the perfect choice to take care of the cute little guys.
Read an MLP fanfic that is awe-inspiringly adorable, because the Wonder Pugs are just too lovable... too determined... too cute.
The following includes hints of SoarinDash (Soarin' and Dashie) and PipBelle (Pipsqueak and Sweetie Belle), plus references from Mel Brooks' The Producers, Don Bluth's Anastasia, The Adventures of Milo and Otis, Mouse Hunt, A Charlie Brown Christmas, The Lion King, and previous MLP episodes.
Chapters (10)