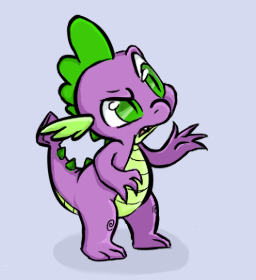 Source
It's almost Halloween, and the internet is lit up with people claiming to be turning into ponies. I'm not terribly concerned, though I'd like to smack the jerk who somehow infected every computer in the world with a virus that changed the calendars to gibberish.
It's not like it really matters to me. The economy still sucks. I still have to go to work all the same. I still have a fiance on the other side of the world and not enough funds for a place of our own. It's probably just a big viral publicity stunt anyway.
Scratch that, I'm apparently Spike now.
At least I still have thumbs.
And a penis. That's important too.
---
This story takes place in the PonyEarthVerse setting.
Chapters (3)