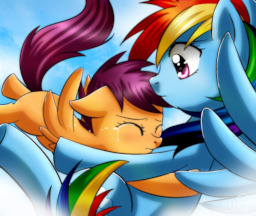 Source
After a terrible fire nearly claims the lives of the Cutie Mark Crusaders, Rainbow Dash has to seriously consider what it takes to be a sister when she has to face the prospect of disciplining the newly-adopted Scootaloo.
Nopony ever said that being a good big sister was gonna be easy.
Big props to Isseus and ShootingStar159 for pre-reading and editing.
Chapters (3)