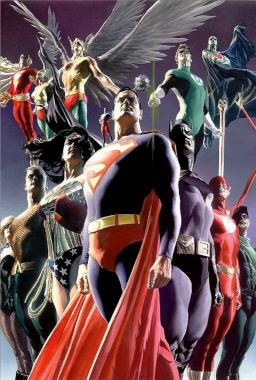 Source
"Twilight... are we worthy to walk among gods?"
"I don't know, Fluttershy... but we can try to keep up with them."
When Sunset Shimmer breaks into the Crystal Palace and steals the Element of Magic, Princess Twilight Sparkle and her friends must give chase and follow Celestia's former student into an alternate dimension... a dimension where they must walk among the mighty heroes of the DC Universe!
Thrown into a world beyond their comprehension, Twilight and her friends ally themselves with the Justice League of America to put a stop to Sunset before she can cause any more damage. But when destruction rains down on Metropolis, the JLA are held accountable and forced into exile. Without Earth's protectors at their side, the Elements of Harmony must assemble a new team of heroes before one of the greatest evils in the Multiverse is brought to Equestria's doorstep...
This fan fiction features re-imagined takes on various characters from My Little Pony: Friendship is Magic (and a few OC's) made exclusively to fit the DC Universe.
This fanfic is part of the "Nobleverse."
Chapters (10)