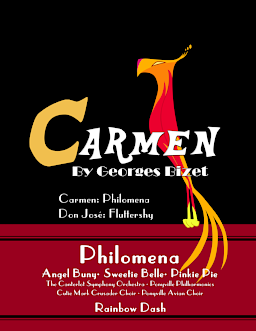 Adaptation of Bizet's Carmen.
Place: Ponyville, and surrounding countryside.
Time: After the pilot episodes, roughly same as "A Bird in the Hoof".
Philomena, the enigmatic, playful and somewhat arrogant Phoenix had made her presence known in Ponyville. How will the musicians cope with this most unusual bird? And how will they straighten out Fluttershy, who was smitten by her?
(This work is actually meant to be completely sung through. Playing the musical pieces while reading is highly recommended)
Scored to Cadanceverse !
Chapters (4)