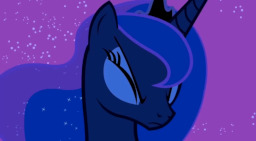 After a thousand years imprisoned in the moon Luna has returned but for her those thousand years passed by in a matter of moments. Though the Elements of Harmony have cleansed Nightmare Moon's taint from her heart she is still very much a broken mare. Celestia suggests she write her thoughts down in a diary to help her process what she is going through but what will she see fit to write?
*notes*
Chapters for this story will be short but will be updated often.
Featured on 6/18/2014 and several times since then. Holy crap you guys are awesome!
Chapters (177)